Arewa
Several weeks ago, in an NGO where I was working then, one of the Executive Directors of the organization came to my department, to say hello to everyone. We exchanged pleasantries, and he asked of my nationality, to which I replied "Nigeria".  He then asked what part of Nigeria and I said "…from the North…". He then exclaimed: "Oh! Boko Haram boom! boom! boom!!!" Everyone laughed, I laughed, but deep down I didn't find it funny. I wasn't offended at all but I was sad that Boko Haram was the first thing that came to his mind when Northern Nigeria was mentioned.
This anecdote shows how these days, Nigeria, or Northern Nigeria in particular is being increasingly identified with the insurgency group, Jama'atu Ahlus-Sunnah Lidda'Awati Wal Jihad (popularly referred to as Boko Haram). I have written severally about the group's activities notably its deadly onslaught against its perceived enemies: the institutions of the Nigerian state, churches and Christians, Politicians, Muslims and Imams who dare question them, media houses, universities, primary schools and so on; I have written about the pattern of its attacks; the conflicting and sometimes misleading narratives about the group's activity and the overall implications for Nigeria's stability and unity.
What Boko Haram stands for and the consequences of its activities touch me personally and deeply, as the group operates chiefly within Northern Nigeria. The group's activities — and that of its numerous factions, splinter groups and copy cats — are wreaking tremendous havoc on the political-economy, the social cohesion and stability of my home basically:  the various bomb blasts, gun fights, targetted assasinations, government curfews restricting movement and police and military check points are having a devastating impact on economic activity, scaring away investors, tempers and tensions are high between Christians in the region who feel most vulnerable and Muslims who feel they are equally victims. My "home" is crumbling and falling apart, and the situation is hardly improving.
There is a general sense of confusion, fear and paranoia in the North in particular and Nigeria in general over Boko Haram and the general state of insecurity. Since the escalation of the group's insurgency in 2011, it seems there's little new information available (to the public) as it is becoming more of a the-more-you-see-the-less-you-understand phenomenon. Therefore, I strongly advocate any research, any report or any useful information that would shed more light on the Boko Haram insurgency, suggest ways of effectively addressing it and restoring some sanity to the North and to Nigeria in general. One of such reports is: "What is Boko Haram?" by Andrew Walker – a  BBC journalist – written for the United States Institute for Peace (USIP) based on extensive field research and key interviews . The following is the summary and key highlights of the report (you can access the full report in PDF HERE):
Boko Haram is an Islamic sect that believes politics in northern Nigeria has been seized by a group of corrupt, false Muslims. It wants to wage a war against them, and the Federal Republic of Nigeria generally, to create a "pure" Islamic state ruled by sharia law.

 

Since August 2011 Boko Haram has planted bombs almost weekly in public or in churches in Nigeria's northeast. The group has also broadened its targets to include setting fire to schools. In March 2012, some twelve public schools in Maiduguri were burned down during the night, and as many as 10,000 pupils were forced out of education.

 

Boko Haram is not in the same global jihadist bracket as Algeria's al-Qaeda in the Islamic Maghreb, or Somalia's al Shabab. Despite its successful attack on the UN compound in Abuja in August 2011, Boko Haram is not bent on attacking Western interests. There have been no further attacks on international interests since that time.

 

Following the failed rescue of hostages Chris McManus and Franco Lamolinara in north­eastern Nigeria in March 2012, President Goodluck Jonathan played up the connections between the group and international terrorism. However, links between Boko Haram and the kidnappers are questionable.

 

It is difficult to see how there can be meaningful dialogue between the government and the group. The group's cell-like structure is open for factions and splits, and there would be no guarantee that someone speaking for the group is speaking for all of the members.

 

Tactics employed by government security agencies against Boko Haram have been consistently brutal and counterproductive. Their reliance on extrajudicial execution as a tactic in "dealing" with any problem in Nigeria not only created Boko Haram as it is known today, but also sustains it and gives it fuel to expand.

 

The group will continue to attack softer targets in the northeast rather than international targets inside or outside Nigeria. It is also likely to become increasingly involved in the Jos crisis, where it will attack Christian indigenes of the north and try to push them out. Such a move would further threaten to destabilize the country's stability and unity.

 

Now that the group has expanded beyond a small number of mosques, radical reforms in policing strategy are necessary if there is to be any progress in countering the group. Wide­spread radical reform of the police is also long overdue throughout Nigeria. As a first step, jailing a number of police officers responsible for ordering human rights abuses might go some way to removing a key objection of the group
Without intending to sound overly pessimistic, my mouth went dry literally and I struggled to swallow hard at various times whilst reading the report. Nevertheless, in my frank assessment, the report is rich in information and detail, seems quite balanced, very nuanced and accurately captures the dynamics of the Boko Haram insurgency in Nigeria. Hopefully, Nigerians in general and our policy makers in particular would put this information to good use. Afterall, according to British scientist and historian Joseph Needham (1900-1995):
"no knowledge is ever wasted or to be despised"
For a while now, I've had reason to believe that the people of Northern Nigeria, especially the (in)famous "dominant" group, the Hausa-Fulanis seem to be in terminal decline. Could this conviction have stemmed out of the aftermath of the 2011 Nigerian general elections and the rampage of the Northern youths against the so-called Northern leaders or the recent spate of Boko Haram attacks in the northern cities of Kano and Kaduna? Perhaps it is the intensification of the unfair media bias and the recent vitriolic, virulent and hateful diatribes against the mostly Muslim Hausa-Fulani Northerners in the mainstream and social media or the serial decline and retardation of the economy in the north and/or the region's growing political irrelevance in the scheme of things in Nigeria. This conviction is coupled with a growing realization that little or nothing is being done by us, the victims, of our mostly self inflicted problems to salvage our future which is in dire jeopardy.
The most obvious problem is the serious leadership deficit in the North which became magnified before and after the 2011 general elections. There is almost a general consensus that Northerners who were at the helms of affairs in the country for several decades did little to better the life of ordinary people in the region in terms of provision of healthcare, education and other infrastructure, direction of useful investments and creation of economic opportunities for the population. The leaders are seen to have enriched themselves and their cronies while using an adept mixture of religion and ethnicity to keep people subjugated in the shackles of illiteracy, ignorance, poverty, and misery. Few leaders have utilized accumulated wealth towards establishing profitable enterprises that employ people, philanthropic organizations that empower others or other productive ends. Rather accumulated wealth is squandered in consumerist behaviour, in opulence in the midst of absolute and abject poverty. Interesting exposés on the leadership deficit have been written by analysts such as Dr. Hakeem Baba Ahmed and the columnist Adamu Adamu amongst several others.
While the deficit of transformational leadership is not exclusively a Northern phenomenon, it is more magnified in the North. It is these leaders who are perceived by many to have "sold out" the north during the 2011 elections hence the rampage of the youths against various emirs, a former speaker of the House of Representatives amongst others. Consequently traditional, religious and political leaders who used to command tremendous respect from people have lost their credibility, and to an extent legitimacy to speak on behalf of the people. Certain enigmatic "geniuses" have been de-robed of their toga of mystique. The people in turn are plagued by frustration, helplessness and hopelessness in the wake of un-inspiring leadership. The newbreeds like Nuhu Ribadu and the Central Bank of Nigeria (CBN) Governor Sanusi Lamido Sanusi who are viewed with suspicion or seem more interested in embroiling themselves in political controversy provide virtually little solace.
Closely following the heels of the leadership deficit is the economic decline and retardation of the region. This economic decline has been accelerated by the Boko Haram insurgency, thanks to which the holy grail of foreign investments will now become ever so elusive. Once the basket of the nation on account of its agricultural productivity – the legendary, towering groundnut pyramids of Kano come to mind –   and its budding industrial activity, the north is now plagued by rapid de-industrialization. 
Buildings housing hitherto bustling factories lay derelict and abandoned in ominous gloom in Kano, Kaduna and Zaria. Poor incentives to farmers, lack of storage facilities and access to credit has led to a decline in agricultural productivity as state governments are embroiled in one fertilizer corruption scandal or the other. With the exception of Kano and to a lesser extent Kaduna, few businesses, and enterprises especially SMEs are owned and managed by Northerners. In many state capitals, the bulk of the labour force engaged in the formal sector are civil servants. The neglect of agriculture, manufacturing and other economic activity for easy oil money coming from the federal government by the state governments has aggravated this situation as the allocation is hardly directed towards reviving infrastructure, capital projects, empowering the populace or investment in non-oil sectors of the economy. The CBN governor recently stated that many states, especially in the North are economically unviable without such allocations. Instead, monthly allocations which run into billions of naira each month are expended towards recurrent expenditure and unproductive ventures such as subsidies on annual Hajj and Umrah pilgrimage trips mainly to reward cronyism. This dependence on oil revenues which has done little to benefit the ordinary Northerner has created an impression of the North as an unproductive region, a "liability" which contributes virtually nothing to the nation's kitty but consumes so much because of its population and its size. Though a cursory look at history deflates this impression since the proceeds from agricultural produce of the North virtually sustained the nation before the discovery of oil.
A socio-cultural aspect of our numerous problems and which lies at the heart of it is our mind set as a people, especially amongst the Hausa-Fulanis . We have developed a mind-set that paradoxically makes us feel culturally superior when infact we are progressively retrogressing in many aspects. We look down on fellow Northerners of a different religion and ethnicity, we feel our own brand of Islam is better than the Islam practiced by a Yoruba man, an Igala or a Tiv such that you'd forgive anyone for thinking the Holy Qur'an was revealed to Prophet Muhammad (PBUH) in Hausa language somewhere in Kano. We feel many career choices especially those which involve working our way to the top are demeaning; our educated youths have been brought up with the mind set to only aim for the ultimate "secure government job" or bust, and as a result many an enterprising and creative youth's dreams have died at stillbirth by the patriarch's final fiat.
This paradoxical superiority complex has pitched us against other "minority" groups in the north who used to be our brothers but now regard us with contempt and derision and has been played upon by mischievous people to ferment ethno-religious tensions.  Many are quick to blame Islam or the mixture of religion and politics, but a comparison of predominantly Muslim societies who are doing relatively well-off such as the United Arab Emirates (UAE), Malaysia and Indonesia for instance shows Islam is not the problem, rather a crude cocktail of ignorance, and the perversion of religious teachings and cultural prescriptions. While in Iran, women outnumber men in Universities as many are highly educated and articulate, female literacy in Northern Nigeria by contrast remains abysmally low, one of the lowest in the world and ditto women empowerment though attitudes are positively changing at snail pace. The problem appears as a friend once stated that we haven't found the right interface between culture and religion in the North.
Lastly is the all-out media war and propaganda against the North. From the mainstream media to social networks, online forums to blogs, it is hunting season for anything Northern (in this context, synonymous with the Northerner of Hausa-Fulani extraction but also any of the predominantly Muslim ethnic groups in the north: Kanuri, Nupe etc). At most you need an advertorial on the pages of the numerous dailies, at the very least, you need an internet connected mobile phone and you are set to begin unleashing your full arsenal against "Northerners". The activities of Boko Haram which have claimed more Muslim lives, wreaked more havoc to Northern cities than anywhere else are attributed to desperate Northern politicians who lost out in the political chess game, a view peddled around even by erstwhile respected intellectuals; sectarian crises and conflict which abound in every part of the country, but more frequently in the North are mostly attributed to the Hausa-Fulani Muslims who are seen to be the culprits even in situations where they are victims; even the lacklustre performance of the Jonathan administration is attributed to the "evil Northerners". The problems highlighted above: leadership, economic decline and socio-cultural challenges have rendered us a voiceless people in this media war and propaganda, we are unable to tell our stories strongly from our own perspective while others do it for us, and they paint their version of the truth in whatever colour hue they deem fit.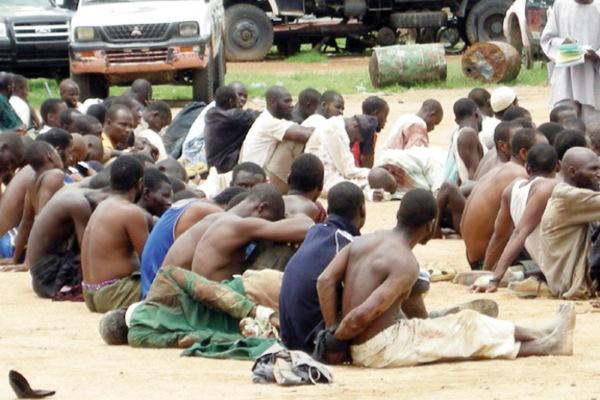 We are a people bedevilled by so many challenges which of course, this writer has barely scratched the surface of. The leadership deficit has aggravated our economic decline and retardation, and threatens not only our social cohesion but our very identity as a people. In times like these, a strong and transformational leadership is what is required to mobilize our abundant human and natural resources for us to realize our full potentials, but this deficit forms the bane of our problems. Paradoxically, while we acknowledge the failure of leadership, and the incapacity or inability of the present crop of leaders to do much to salvage our pathetic situation, we are still waiting on them.  Obviously our leaders cannot do much because they are constrained, because they are not interested or because it is a Frankestein's monster has turned on Dr. Frankestein situation. While we "wait", Boko Haram seems to be the only force filling this leadership vacuum in a very destructive and warped sense by co-opting the vast number of idle, unemployed and frustrated youths as willing recruits to its campaign of death and terror. Gradually, Boko Haram could become the only thing that defines us as a people, if this leadership vacuum persists and by then we WOULD BE DOOMED!
To further buttress my point, when I googled "Northern Nigeria" and "Arewa Nigeria", at least 50% of the images that came up in the search results were of Boko Haram, scenes of its attacks or images of its victims. That speaks volumes.
Whatever the case, it is our generation which will suffer most because the present crop of leaders have little to lose; we will live with the consequences of their actions while our children's future becomes increasingly uncertain. Perhaps the tone here is a tad too pessimistic when this writer concludes that the numerous problems we face in the North crowned no less by Boko Haram's deadly insurgency gives a gloomy premonition of a bleak future . We are in a terminal decline, the question is are we doing enough to address this? What can we or should we do to reverse this certain reality?