Boko Haram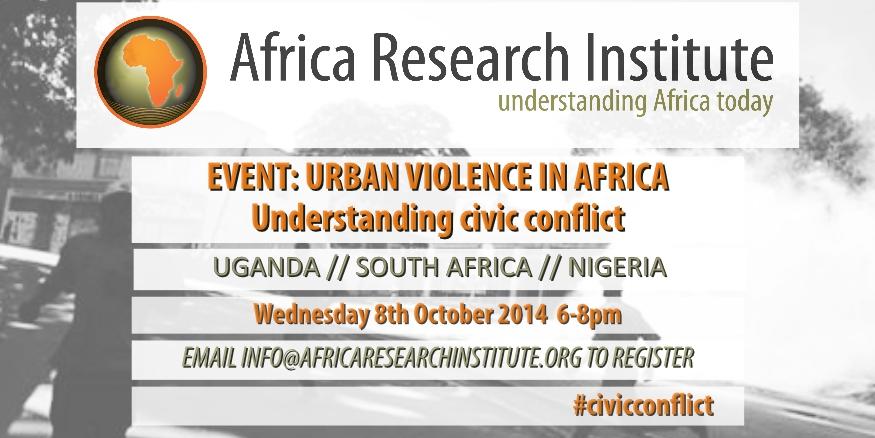 On Wednesday 08 October, I will be participating in a panel discussing Urban Violence in Africa. This is an event organised by the Africa Research Institute, a think-tank in London.
Specifically, I will be speaking on political cohesion  and the capacity of the Nigerian state to contain Boko Haram.
My co-panelists are Dr. Paula Meth, Senior Lecturer, Town and Regional Planning, University of Sheffield and Dr. Tom Goodfellow, Lecturer, Town and Regional Planning, University of Sheffield.
Attendance to the event is free, but registration is required. Here are the details, with more information is available on the ARI website:
Date: Wednesday 8th October, 2014
Time: 6 to 8pm
Location: 55 Tufton St, London, SW1P 3QL
Drinks and light refreshments will be served
Twitter hashtag: #civicconflict
Free to attend but registration is required, emailinfo@africaresearchinstitute.org or call 020 7222 4006
One of the Founders, and a Coordinator of the #BringBackOurGirls movement in Nigeria, Hadiza Bala Usman, spoke at the United Nations Headquarters in New York about the movement and the Chibok girls. She was guest speaker at the closing ceremony of the UN DPI Conference on 29 August 2019. Here is the video of her speech:
The International Crisis Group recently published a report on the Boko Haram insurgency titled 'Curbing Violence in Nigeria (II): The Boko Haram Insurgency (full report available HERE)'. It chronicles the insurgency in a detailed and historical manner and recommends measures for addressing it, to various stakeholders.
The main findings are summarised in the opening paragraph of the Executive Summary:
"Boko Haram's four-year-old insurgency has pitted neighbour against neighbour, cost more than 4,000 lives, displaced close to half a million, destroyed hundreds of schools and government buildings and devastated an already ravaged economy in the North East, one of Nigeria's poorest regions. It overstretches federal security services, with no end in sight, spills over to other parts of the north and risks reaching Niger and Cameroon, weak countries poorly equipped to combat a radical Islamist armed group tapping into real governance, corruption, impunity and underdevelopment grievances shared by most people in the region. Boko Haram is both a serious challenge and manifestation of more profound threats to Nigeria's security. Unless the federal and state governments, and the region, develop and implement comprehensive plans to tackle not only insecurity but also the injustices that drive much of the troubles, Boko Haram, or groups like it, will continue to destabilise large parts of the country. Yet, the government's response is largely military, and political will to do more than that appears entirely lacking."
The recommendations are addressed to the Federal Government, the northern state governments and international donor partners. They are two-fold: those aimed at protecting lives, and those aimed at tackling the root causes of the insurgency.
What I like most about the report is its detailed and granular nature. It is based on extensive fieldwork in various parts of Nigeria, with information gathered from Boko Haram members, residents in the North-East, the epicenter of the insurgency, from federal and state government officials, from security officers and many other relevant stakeholders. This is obviously a marked departure from the predominantly lazy, speculative and recycled analyses sometimes by arm chair analysts who have never been to any part of northern Nigeria.
Some of the highlights of the report, or at least, sections I found very informative include (quoted verbatim):
The group ran (probably still runs) a micro-credit scheme for its supporters:
"(They received) funds from external Salafi contacts, including Osama bin Laden, that he (Yusuf) used to fund a micro- credit scheme for his followers and give welfare, food and shelter to refugees and unemployed youth." (P.i)
The report interrogates claims of the group's ssociation with local politicians in Borno and the North-East (these excerpts are rather lengthy but significant):

"The 200-strong splinter group led by Abubakar Shekau and Aminu Tashen-Ilimi accused Muhammad Yusuf of being too soft and went to the then governor of neighbouring Yobe state, Bukar Abba Ibrahim, and requested rural land on which to live an ascetic life away from modern immorality. Ibrahim allowed it to settle in Dapchi, in the Bursari local government area, with a large dam for fishing" (p.9)
"Unhappy with the state government and apparently to cater to his more radical lieutenants, his (Yusuf's) preaching took a harder line. He criticised the ruling elite, denouncing corruption, impunity, and government failures to the general admiration of the local population." (P.10)
While already popular, Yusuf rose to much greater prominence when he reportedly formed an alliance with (former Borno state governor) Ali Modu Sheriff, a politician and wealthy businessman from a prominent Maiduguri family. Sheriff and his associates have denied any alliance with Yusuf and accused the PDP of creating Boko Haram. In 1999 Sheriff won the Borno North senatorial seat and helped Mala Kachalla, a far older politician, become governor on the ticket of the All Nigerian Peoples Party (ANPP) that controlled both Borno and Yobe state. However, an ANPP politician said, they fell out when Kachalla backed out of an agreement to give way to Sheriff after one term…

…It is widely believed in the region and by many Boko Haram members that Sheriff then cut a deal with Yusuf, whose large youth following was a significant electoral bloc. Yusuf allegedly promised to help Sheriff, provided he would implement Sharia and give the sect some senior government appointments.Sheriff denies any agreement, though many politicians and observers say Yusuf gave massive support to his campaign, reportedly including fiery attacks that portrayed Kachalla as a bad Muslim uninterested in Sharia… Sheriff also has been accused of enlisting a group, named "ECOMOG" after the Nigeria-led West African peacekeeping force in Liberia, to intimidate and silence political opponents with impunity…

…The state government allegedly provided funds to Yusuf through Buji Foi, known locally as a Yusuf disciple whom Sheriff made religious affairs commissioner when he became governor.Yusuf used the money to organise an informal micro-credit scheme that gave his disciples capital to set up businesses…

…Cracks appeared in the purported Yusuf-Sheriff alliance, however, after the latter became governor in 2003. According to Boko Haram members, he reneged on his promise to implement Sharia fully in the state, limiting its courts to social matters and refusing to allow traditional criminal punishments such as flogging for theft and fornication, amputation and stoning to death for adultery. Yusuf began to direct ser- mons against Sheriff and his government, ultimately branding him an apostate. In 2007, Buji Foi resigned as religious affairs commissioner in protest." (P.11-12)
Exploring the questionable engagement of non-Muslim politicians with the sect's leaders:
"In December 2008, the Borno state government charged Yusuf with terrorism before the federal high court in Abuja. He was released on bail, allegedly following the intervention of Peoples Democratic Party (PDP) members. Four influential Nige- rians, all Christians, reportedly signed the bail bond. This led to speculation that Yusuf had backing from northern Christian elites and conspiracy theories that he was being used to undermine northern Muslim leaders" (P.13)
The founder, Muhammad Yusuf's increasing radicalisation placed him on a collision course with other Muslim clerics:
"Yusuf's criticism of Western education brought him into disagreement with other clerics, including fellow Salafis; his former mentor, Sheikh Mahmud Jaafar Adam, was his foremost antagonist. Izala clerics, particularly Jaafar Adam and Adam Albany, devoted considerable time to criticising the group and warning the government about it." (P.12)
Abubakar Shekau's leadership made the sect more violent and less open to dialogue:
"Yusuf's main lieutenants were Muhammad Lawan, Mamman Nur and Abubakar Shekau… Nur, said to be more knowledgeable, mature and level-headed, was seen as Yusuf's deputy and eventual successor, but Shekau was chosen after Yusuf's death because he was more radical and aggressive…With Shekau at the helm of its most significant faction Boko Haram has grown more ruthless, violent and destructive and less open to dialogue." (P.19)
The sect is not a cohesive unit. It is highly fragmented into about 6 main factions. Some members are disenchanted by the frequent bloodletting and are pro-dialogue, yet such views are mercilessly crushed:
"Security officials say their successes are due to leaks from disenchanted members. Some are fed up with the bloodletting, want to settle down, but fear advocating negotiations could mean execution by decapitation. Shekau has repeatedly ruled out talks with the government, despite claims by some purported sect members that these were ongoing. Members who proposed dialogue were killed on Shekau's orders, silencing other pro-dialogue individuals" (p.20-21)
"The killing and capture of top commanders significantly impacted the sect's eleven- member Shura, leading to its expansion to 37. This made it difficult to reach unani- mous decisions, with consequent adverse consequences for operations. In the past four years it has split into many factions with varying aims, to the point that some believe it is too fragmented to present a common front for dialogue." (P.21-22)
Boko Haram has ties with extremist Salafi groups around the world:
"Osama bin Laden's interest in Nigeria dated from his 1992-1996 stay in Sudan, where he reportedly met Mohammed Ali, a Nigerian from Maiduguri studying at the Islamic University in Khartoum who became his disciple and trained in Afghanistan; according to Boko Haram sources, Bin Laden asked him to organise a cell in Nigeria with a 300 million naira budget (approximately $3 million in 2000). Ali returned home in 2002 and began funding religious activities of Salafi groups that were unaware of the plan. Mohammed Yusuf and his group allegedly were the major beneficiaries. With the 2003-2004 Kanamma uprising, in which Mohammed Ali was a major player, Izala groups distanced themselves from him as too radical." (P.23)
There is a lot more in the report.
I find three main weaknesses in the recommendations section:
First, there is little to no emphasis on how to address the politicization of the insurgency, particularly the alleged involvement of non-Muslims in an ostensibly Islamist phenomenon. For instance, the well-documented involvement of non-Muslims in botched bomb attacks of churches, the arrest of Boko Haram's medical doctor, Dr. Isaac Ikere, a World Health Organisation (WHO) consultant and that Yusuf was bailed by prominent non-Muslim politicians (although this was explored briefly in the main body of the report in pg. 13) and numerous similar incidents are all highly significant.
Second, the report did not recognise that the media (collectively) are important stakeholders in insecurity and violence in Nigeria. The mainstream media play a huge role in moulding public opinion in Nigeria. Media ownership reflects some of Nigeria's regional and religious cleavages and the way incidents are reported with a certain slant contribute to the tensions in Nigeria.
Third, I would argue that any recommendation must include a counsel to the Federal Government to revamp its PR on this insurgency. The army's poor communication strategy has significantly eroded the already thin public trust in the military and in other security agencies. They frequently under-report casualty figures and their human rights violation record in the North-East is legendary. They willingly misinform the public with exaggerated claims of victory. Last year the Joint Military Task Force (JTF) claimed they had killed Abubakar Shekau which turned out to be patently false. Then they callously claimed that the reports of the 20 school girls abducted in Konduga in Borno in February were false. Most recently, the JTF claimed to have rescued the 200 female students abducted in Chibok, Borno a few days ago, a claim that was widely disputed by the school principal. These tall tales are insensitive, are a contemptibly futile attempt at winning hearts and minds and have done incalculable damage to the security agencies' reputation. The army needs to urgently review it's public engagement strategy to regain the trust of Nigerians.
Notwithstanding these shortcomings, the Crisis Group report is meticulously written, easy to read and devoid of unnecessary jargon. It is a must-read for anyone interested in understanding the Boko Haram insurgency.
In most cultures of the world, a word exists for a frightening creature or the bogey man. In Hausa for instance, it is the dodo. A fiendish entity, other-worldly, yet beastly in its aggression and human in its scheming prowess, the dodo lurks, stalks and terrorises. Stories of the bogey man are used strategically by parents to whip misbehaving children back into line, because no one knows quite what the bogeyman is – it is everything and nothing.
In Nigeria's North-East, the heart of the Boko Haram terrorist insurgency, the bogeyman may have traversed the realm of fantasy into cold reality. Boko Haram militants lurk at night, to murder school children while they sleep. In the last few days, we have been held spellbound by the brutality unleashed on defenseless school children in Borno and Yobe. 43 young people were killed in the attack on a secondary school in Buni Yadi, Yobe. About 20 female students were abducted by the militants from a school in Konduga, Borno.
Survivors have recounted spine-chilling stories of dormitories set on fire and of escapees gunned down. The few that evaded gun fire were chased, and slaughtered like cattle. Photos of charred remains of adolescents and of bodies drenched in blood from sliced throats and bullet wounds have flooded the Internet. The massacres occur daily. The bogeyman has come to life – it spares no one in its violent wake.
Naked fear is firmly embedded into the spines of most. The fear in part stems from the realisation that regardless of class or economic status, no one is safe. The 'unknown gunmen' who routinely terrorise others are hardly ever caught and prosecuted. The murders of prominent citizens such as Bola Ige, Saudatu Rimi and Sheikh Jafar are yet to be resolved years after, not to mention crimes against faceless and nameless 'commoners' in Bama or Baga. The Police, the Civil Defense Corps and the Army seem to be out-gunned, out-motivated and over-whelmed. In a country with massive economic and social inequalities, this collective insecurity is one area where all Nigerians are equal.
Mostly, this fear comes from confronting a deadly enemy which appears fluid, formless and extremely vengeful – a bogeyman. Boko Haram is a rapidly changing, complex and fragmented movement. Its doctrine is as fast changing as it is contradictory – anti-democracy, anti-secularism, and anti-establishment. Yet it liberally employs internet enabled smartphones and other tools of modernity and western education to perpetrate attacks. Any criticism of the group's approach by ordinary citizens, Imams or traditional rulers in the North draws a swift and vicious response.
The eccentric pre-2009 hermetic ragtag sect, avenging the death of their slain leader Muhammad Yusuf from 2010, have quickly metamorphosed into a highly sophisticated terrorist group with deep local and global networks. From laying siege on police stations and army checkpoints, they have attacked churches, brothels, prominent Islamic clerics, mosques, northern traditional rulers and now they've added the murder of helpless school children to a blood-drenched résumé. It's difficult to project what tactics they will adopt next.
So little credible information about the group is available. Boko Haram itself thrives on secrecy. The Army bragged about the leader, Abubakar Shekau's death in August 2013 only for his taunting videos to resurface shortly. Whenever an evident victory is proclaimed by the authorities, a more daring attack is perpetrated. The insurgency has become like the monster in Greek mythology, Scylla – when one head is sliced off, three more sprout up in its stead. As the rise of the 'yan Gora or the Civilian Joint Task Force – the youth vigilante fishing out suspected insurgents from the community – is celebrated, Boko Haram ferociously retaliates against such communities working with the authorities.
Where little information is available, speculation thrives. Where speculation is rife in the midst of unbridled fear about a formless enemy, conspiracy theories fill the gap. In Nigeria, these conspiracy theories are as numerous as they are destructive: Boko Haram is a creation of "disgruntled northern politicians to destabilise Goodluck Jonathan's government". "Boko Haram is a creation of the Federal Government in Abuja to destroy the North for political advantage". The group "is a creation of the West to fulfill their prediction of a disintegrated Nigeria by 2015″. Some of these toxic opinions neatly overlap with people's innate prejudices particularly in the wake of the divisive 2011 elections.
While these conspiracy theories are mostly ludicrous, anecdotes of suspicious events give them weight. According to the Yobe state governor, the soldiers guarding the school in Buni Yadi were mysteriously withdrawn from their duty posts a few hours before. The traditional ruler of Bama bemoaned that while the town was sacked and torched over several hours in February, frantic efforts to call local Police and Army chiefs were futile as they were all mysteriously unavailable. Ground troops, whose courage must be appreciated, are known to be severely under equipped relative to the sophisticated weaponry carried by Boko Haram despite the almost one trillion naira allocated to security in the national budget.
Most troubling is that recently, Reno Omokri, the President's Special Assistant on New Media was identified as the author of a malicious article falsely alleging that the 'suspended' Central Bank Governor Sanusi Lamido is a Boko Haram financier. Many such unexplained events have planted suspicion in the minds of many in the North-East, and allow for dangerous conspiracy theories to flourish.
The reality is that fighting such an entrenched insurgency anywhere will be a grueling and bloody war of attrition. The difficult experiences of America in Vietnam, Afghanistan and Iraq, despite being a highly militarised super power are instructive. In this trying period, it is necessary to ensure that some semblance of national cohesion against the insurgency exists.
For a start, genuine efforts must be made at restoring the trust of residents in the North-East in the Federal Government. Symbolic gestures by the President to sincerely console victims of brutal murders would alleviate some of the widespread sense of alienation in the region. Greater efforts must be made to address lapses and incompetence by the security agencies in order to lay conspiracy theories to rest. Proper investigations of leakages in the security infrastructure must be made to understand why combat troops in the firing line are under-paid and under-equipped. President Jonathan must as a matter of urgency, take decisive and punitive action against the despicable act of his aide- Reno Omokri, failure of which would send the message that the frame up attempt was sanctioned by the Presidency.
Finally, Nigerians must be commended for the resilience and the solidarity in expressing collective outrage in the wake of the recent escalation of violence in the entire North-East. Despite the prevalence of fear and the sense of helplessness, we must have faith that Nigeria will somehow endure and emerge stronger from this all.
Culled from Aljazeera:
"She is called the Burka Avenger and is like no other superhero before her.

By day she is a Pakistani school teacher, but by night the secret martial arts expert dresses in a veil while fighting bad guys  (who want to shut down schools).

The animated children's series is about to hit TV screens across Pakistan."
This is a potentially effective form of positive indoctrination and soft approach to fighting terrorism and extremism in a society. Given the numerous similarities between northern Nigeria and Pakistan in this regard, perhaps northern Nigeria also needs its own version of the Burka/Hijab Avenger to fight the Boko Haram baddies.
On Saturday 15 June, the Al-Jazeera West Africa correspondent Yvonne Ndege, and her 3-man crew were arrested in Niger. According to information posted on the Al-Jazeera website:
The team was initially detained at around 9.00 (GMT) on Saturday, questioned, and asked to hand over the material from a story they were filming about refugees.

The four were then interrogated for about ten hours before being officially arrested and charged with espionage, with no evidence being presented to support the charges.

…the authorities confiscated the team's passports, filming equipment and personal belongings before putting them in a shared cell without food or water.

On Sunday, the Attorney General said that there was no evidence against them and the team was free to go, while the police headquarters said the filmed footage was cleared for release.

Within an hour of this order being given, the team was detained again without charge and the filming equipment was once again confiscated.
The team was eventually released, according to Premium Times:
"The four-person team was released late on Monday evening without charge to make way back to the border into Nigeria," Kevin Kriedmann, a spokesperson of Aljazeera disclosed in a press release early Tuesday.
As for the reason behind their arrest, The Washington Post reports the team was arrested on charges by the Nigerien government that they failed to get proper accreditation:
Niger's government spokesman said the group was filming illegally, having entered the country with only a visa. Journalists in Niger are required to also apply for an authorization from the ministry of communication, said spokesman Marou Amadou, who is also the country's justice minister. He denied that the team had been held, saying only that their material was seized and inspected.
However, the reason for the detention may not be unconnected with the story the Al-Jazeera team was covering, about thousands of refugees fleeing across the border into Niger, from neighbouring Nigeria. The Nigerian government declared a State of Emergency on 14 May and launched a military operation to flush out the Boko Haram insurgents in their stronghold states of Borno, Yobe and Adamawa.  Borno state in particular shares a border with Niger.
Here is the first footage of the reportage by Al-Jazeera on the refugees in Niger:
So far, Al-Jazeera is one of the few media agencies (among both local and international media) that has covered the plight of refugees fleeing these areas. Mobile communication networks have been switched off in these states since the military operation started, and thus, there's little information coming out, and the little that does, is heavily controlled and determined by the Nigerian Army.
What I find more disturbing is the Nigerian government's hasty dismissal of these refugees as citizens of Niger "fleeing" back to their country, and not Nigerians, even though it is common knowledge that when conflict erupts in an area, the residents tend to leave for somewhere safer until the conflict abates.  Agence France Presse (AFP) has also reported on the plight of Nigerian refugees in Cameroon, fleeing the military offensive in the North-East.
This hasty dismissal by the Nigerian government, along with the knee-jerk response by the Nigerien authorities confounds the situation further.
This piece below was written for Democracy in Africa. Find the original HERE.
'…These actions amount to a declaration of war and a deliberate attempt to undermine the authority of the Nigerian state… As a responsible government, we will not tolerate this', declared Nigerian President Goodluck Jonathan. This was during his recent imposition of a State of Emergency to mark the onset of army raids in parts of Nigeria's North-East, the strong hold of the Jama'atul Ahlus Sunnah Lidda'awati Wal Jihad, commonly known as Boko Haram, which has waged a deadly insurgency war against the Nigerian state since 2009.
While Boko Haram is apparently the biggest security headache for Africa's most populous country, it certainly isn't its only security challenge. Pockets of violence in the oil-rich Niger-Delta, the rise of other militias in the South-West and the Middle-Belt, alarming incidents of kidnapping in the South-East, frequent eruptions of communal violence in Jos, and other forms of violent crime abound. Crucially, the increase in militant activity should be situated within the larger context of Nigeria's political economy and the 2015 general elections, on which most of the political elite and their networks are now fixated.
Since the transition to democracy in 1999, Nigeria has experienced a period of sustained economic growth averaging 7.4%, driven partly by the rise in global oil prices. Lucrative oil revenues, accounting for 80% of government revenues, have heightened intensely competitive contestations for political office, to do-or-die proportions. Politicians frequently ratchet up identity-based rhetoric along North-South, Christian-Muslim, and other fault lines in the run up to elections. Predictably, with such fierce competition for public offices, election season is punctuated with violence. Events in the Western Region in 1964 and in parts of the North in 2011 serve as particularly notorious examples of the devastation such violence can cause.
Given the enormous (oil) revenues accruing to the government, political posturing towards 2015 elections seems to have started much earlier than usual. Presently, political discourse in Nigeria is feverishly centred on the potential candidates for president and the state governors. Heated political commentaries focus on what region's "turn" it is to produce the president. The threats and counter-threats being made by various groups are indicative of the acrimony that followed the collapse in 2011 of the ruling People's Democratic Party's (PDP) 12-year power-sharing formula between the North and the South. Steps towards a coalition by the main opposition parties, the All Progressives Congress (APC), add fuel to an already raging debate. Nigeria's growing number of militant groups can only be understood within this context of fierce rhetoric and political re-alignments.
One thread that runs through the militias – Boko Haram, Niger-Delta militants, the Odudua People's Congress (OPC) and others – is that despite their varied approaches, they provide platforms for those disillusioned with Nigeria's narrow political system to express their grievances, albeit violently. For example, people in the Niger-Delta have long demanded that underdevelopment in the region be addressed by the government. However, it was only after young men from the area engaged in a sustained insurgency, which crippled oil production, that a government-backed Amnesty Programme was initiated in 2009 to address some of their grievances.
A similar pattern is observable with Boko Haram, where radicalised young men up North have now attained local and international infamy. Their goal is not just to secure the release of detained members but also to reach the unfeasible goal of usurping Nigeria's secular constitution with Islamic law. Alongside ongoing military action, the government is also considering an amnesty proposal for Boko Haram.
Consequently, these groups cannot just be understood in terms of the security risk they pose or the criminal elements they harbour. They must also be read in political terms, and seen as platforms for the assertion of authority by sections of Nigerians. The country has an exclusionary political system dominated by 'big men' or 'godfathers', and their associates and networks. Barring familial link or other 'connections' to these networks, direct participation in Nigeria's political system depends on luck, or as these groups have discovered, by causing enough mayhem to get the attention of those who matter.
Without such violent mobilisation, members of these militia groups would, politically, be in the same boat as any of the 61% of Nigerians living below the poverty line, or the rest of the rising middle class, who are yet to constitute a critical mass that can effectively demand representation or accountability in decision-making. The power, 'fame' and lucrative payoffs that insurgents have gained by carrying arms against the state undermines the sustainability of state interventions and begs the question: what can they realistically offer these groups, and those that will follow them, to pacify their actions in the long term?
Returning to the run-up to Nigeria's elections in 2015, there are several ways in which militia groups might exercise their new-found power. Some may rally around a particular candidate, allowing them to benefit from the mix of legitimacy and fear that such groups bring. In Nigeria, where there is a long trend of political thugs being recruited by desperate politicians, this would not be an unexpected development. Conversely, Boko Haram, in particular, may try and prevent elections in the North East happening at all. Finally, should these groups be co-opted or crushed, we may see the rise of counter-militias to fill the vacuum that they leave. The massive funds allocated to national security at just under N1 trillion ($4.5 billion) may well give the government the firepower it needs to temporarily destroy or buy-off these groups, but such large funding flows could, just as easily, create sectors of the government who have a vested interest in maintaining an atmosphere of insecurity.
Whatever course these government and militia groups take, the results of the election in 2015 will undoubtedly have immense implications for political stability and security in the country. Boko Haram, for example, is understood by many Southerners in Nigera in terms of the country's North-South divide. Currently, the group is split into three factions. The main group's 'war' against the Nigerian state started in 2009, before Goodluck Jonathan, a southerner from the Niger-Delta, became President. However, the narrative that has gained currency in the South, is that Boko Haram is a tool used by disgruntled northern politicians, in the fall-out of the PDP's power-sharing agreement, to destabilise Jonathan's government. In the unlikely event that the APC fields a northern-Muslim candidate who defeats Jonathan at the polls, the knock-on effects for Boko Haram will be huge.
Regardless of whether Jonathan is unseated, 2015 will also be an important moment for the oil-rich Niger-Delta. Ex-militants have been pacified by an expensive amnesty programme which coincidentally expires in 2015. They have also benefitted immensely from government pay-outs and lucrative security contracts, in one instance worth $103 million. Whether these conciliatory measures continue will depend on who the incoming President needed to appease to secure their electoral victory.
As tremendous political and financial resources continue to pour into Nigeria's security challenges and its upcoming elections, it is unclear who the winners will be. However, it is unlikely that they will include most ordinary Nigerians in the sun-scorched arid areas of the North-East or those in the oily creeks of the Niger-Delta.
"Mr Shekau said his group had done no wrong and so an amnesty would not be applicable to them.

It was the Nigerian government that was committing atrocities against Muslims, he said.

"Surprisingly, the Nigerian government is talking about granting us amnesty. What wrong have we done? On the contrary, it is we that should grant you [a] pardon," AFP news agency quotes him as saying in the Hausa language audio recording." 
Read the full report on the BBC News website
Of course, this was to be expected and sadly, many of us "observers" were just waiting for this. Boko Haram NEVER requested or plead for amnesty, it has no use for it whatsoever. You don't need a sophisticated anti-terrorism profiler from Mossad to tell you that Boko Haram thrives on and draws its strength from the fear it inflicts on those commanding the machinery of government and the people, in seeking its "vengeance" (however warped that quest for vengeance is). Amnesty as it stands, would rob it of its lifeblood (its ability to inflict fear and terror). By default, Boko Haram is wired to reject this offer, as it has.  Now what?
This phase of the Boko Haram insurgency against the Nigerian state and the offer of amnesty by the government is analagous to two people, Mr. A. and Mr. B., engaged in bloody physical combat with Mr. A gaining the upper hand against Mr. B. Upon realising how imminent his defeat is, Mr. B., proclaims in between steely punches smashing his face "I forgive you Mr. A., I grant you amnesty". Of course at this point, Mr. A will realise how powerful he has become, and simply finish off Mr. B.
I have keenly followed the pro- and anti- amnesty debate over the past two weeks or so in Nigeria. I found it all rather confounding, disturbing, distracting and absolutely pathetic! The debate got so heated and was as usual, unnecessarily politicised by both sides. I actually supported the President's initial position of "not granting amnesty to faceless ghosts" because Boko Haram did not request for it, has insisted that it doesn't recognise the authority of the Nigerian state (not to mention its feeble amnesty offer) and has continued butchering innocent Nigerians. However, President Jonathan was cajoled and bullied by SOME northern leaders into offering the amnesty.
On the other side of the divide, even those who genuinely and naïvely assumed that an amnesty offer would be the magical elixir to solve this bloody insurgency quagmire, were viciously painted by vociferous anti-amnesty voices as Boko Haram "sympathisers". Now Boko Haram has flipped the bird or as we Nigerians call it, did the "uwaka" sign to us all, by rejecting it!
Personally, I am more incensed at the folly of SOME of the proponents of amnesty and their gross inability to see how this would play out. I say a big Thank You for giving the world the opportunity once again, to laugh at your sheer recklessness. So, what next then? Start begging Boko Haram or bribe them with Hajj pilgrimage or Dubai trip offers?
The baby steps towards a sustainable solution should be clear and visible. In my opinion — based on my humble observations and from general discussions — I believe they include:
Implementation of recommendations of several reports by various commissions and committees set up, on this insurgency. Most of these reports have concrete recommendations proposed by committee members who are in the know, yet they have been dumped somewhere. Go back, pick them up, and start working from the recommendations, if they haven't been eaten by dust mite that is. If the Federal Government seems unwilling or keeps dragging its foot, our "esteemed" and opinionated northern elders clearly have their advocacy work cut out for them;
The JTF needs to stop killing innocent people and thereby providing a ready supply of recruits and suicide bombers to Boko Haram from a pool of angry, spiteful, vengeful and disillusioned orphans. The logic here is so ridiculously simple and apparent: the more you kill fathers in the presence of their impressionable teenagers and brutalise innocent young men, the more likely the victims are to fall into the willing embrace of Boko Haram or just refuse to help the government. Government needs to realise the pivotal role of winning the hearts and minds of people caught in the midst of all this, and denying Boko Haram any sort of popular support;
In addition to spreading fear through its carnage, Boko Haram primarily thrives on spreading its warped and twisted ideology to angry, frustrated and hungry Nigerians. Its ideology needs to be countered by Muslim clerics all over the country, especially in northern Nigeria. Already, we have people like Sheikh Ahmad Gumi, who, despite his sometimes controversial statements, has come down hard on the sect, and because of that, he has been the target of several bomb-assassination attempts. Importantly this de-radicalisation needs to filter down to the grassroots, and shouldn't be restricted to the elitist spheres such as the Sultan Bello mosque in Kaduna or the Indimi mosque in Maiduguri. The real recruitment takes place in inner-city districts, slums, suburbs and rural areas. This is where some of our noisy northern leaders could be helpful, rather than bullying the President to offer a hollow and meaningless amnesty, they should (if they are doing so already) continue convincing local imams in every street mosque and district, to preach fearlessly against this radical ideology, with credible evidence from the Holy Qur'an and teachings of the Prophet Muhammad (SAW), to expose the flaws in the ideological basis of Boko Haram and hopefully turn some of its members against it;
There might still be a chance for amnesty… but there has to be a different approach. Again related to (1) above, the government (Federal and States) should go back to those reports and their recommendations, importantly, to start prosecuting perpetrators especially those in the security agencies responsible for extra-judicial killings of innocent citizens. This might be a highly contested approach but yes, start by prosecuting the killers of Mohammed Yusuf and others, which Boko Haram has frequently cited as the reason for its war against the Nigerian state. Prosecution of these erring officers might draw whatever humanity is left in some of the sect members to the negotiating table.
Lastly, the main problem with Nigeria, as is evident from this insurgency is that of sheer and criminal impunity. People steal, plunder, rape, murder and do everything under the sun, yet they are allowed to get away with it. This not only sets a precedent for other members of society to do same or worse, but it leaves victims with malicious grievances and a thirst for vengeance. Mohammed Yusuf, the sect's alleged founder was brutally murdered (captured by the lens of Aljazeera's cameras), the perpetrators are still walking about freely. The various suspects of church, market, mosque and school bombings are still walking about freely. Soldiers who have snuffed the life out of innocent citizens are still walking about freely. This breeds nothing but hateful grievances while the cycle of bloodletting continues. In the case of the sect, Jama'atul ahlul Sunna Wal-Liddawati wal Jihad, or Boko Haram, it is quenching its thirst for vengeance with the blood of innocents and this is what needs to stop.
March 28th 2012 is one of those memorable days many Nigerians will not forget in a hurry. This was the day when reports filtered out that President Goodluck Jonathan had in an interview in far away South Korea, the previous day, confidently assured the international community that Jama'atu Ahlis Sunnah Lidda'awati Wal-Jihad commonly referred to as Boko Haram would be contained by June 2012. Of course Boko Haram, not one to let such an opportunity to display its peculiar propensity for viciousness and violence against its perceived "enemies" to pass by, shortly after, did what it does best — carried out deadly attacks at select targets such as Universities and Media Houses along with its usual offensive against churches, police stations, security posts and installations. These attacks so far have persisted and become more fierce and bloody, and the rest as they say is history…
I can vividly remember that afternoon in late March, what I was wearing, and what I was doing when I learnt about President Jonathan's enthusiastic and optimistic assurance. I cannot recall though, the precise flurry of emotions that coursed through my very being in reaction —  amusement, incredulity, perplexity, exasperation or a mish-mash of all these. I wondered why the President couldn't have been more tactful in his choice of words knowing well that Boko Haram generally relishes the slightest opportunity to flex its ferocious muscles and it would interpret his statement as some sort of dare. I also dreaded what Boko Haram would do to disprove the President's statement.
And indeed, Jama'atu Ahlis Sunnah Lidda'awati Wal-Jihad retorted, first, with a very menacing video clip, vowing to "bring down" and "consume" President Jonathan's administration and then unleashed a string of attacks against several targets with such astonishing levels of aggression and ferocity, dashing the faintest hopes of anyone who thought the group would be contained within this period. The most recent violent campaign within this month, being the mayhem in Kaduna state – attacks on churches in Wusasa, Sabon Gari and Tirkanniya, the reprisals and the counter reprisals – and the bomb blasts, gun battle and prison break in Damaturu, Yobe state have left hundreds dead in a bloody trail of death and terror. Residents of these cities have been subjected to 24 hour government imposed curfews for the better part of last week, paralyzed in fear and uncertainty. Though the curfews have been somewhat relaxed, the sudden clampdown on movement has had traumatizing effects on residents, has done little to calm frayed nerves in a very tense atmosphere and crippled economic activity in the interim.
As June fast approaches to an end, leaving in its wake, an atmosphere of uncertainty and gloom, it is pertinent to reflect on the President's statement and consider whether Boko Haram is really being contained, controlled or crushed as the international community was assured way back in March or whether it is Boko Haram which is containing and crushing Nigerians. If the reality on ground is skewed towards the latter scenario, one has to wonder then, why Mr. President made that statement. Was it because he felt that such an assurance was necessary to restore the confidence of (potential) investors in Nigeria's political and economic viability to absorb their crisp emerging market Dollars, Yuan and Won?
Of course as Commander-in-Chief, President Jonathan is privy to classified reports from intelligence agencies and his security advisers. Based on such intelligence reports, he probably felt confident that the noose was tightening fast around Boko Haram and thought it timely to enthusiastically inform the world of such impending victory, at Seoul. Quite possibly, the President felt sufficient information to close in on Boko Haram had been garnered from the scores of suspects apprehended in the past few months, such that security forces were just on the verge of moving in for the kill. Or perhaps President Jonathan's premature enthusiasm was just one of those one-off statements leaders make, on the prodding of their advisers, as a gamble, with their fingers crossed under the table and toes crossed in their presidential shoes, hoping against all odds that such a statement turns out to be true.
Whatever the reason behind this rather impulsive and premature assurance, it is now evident that the exact opposite came to pass. One could speculate thus, that it is owing to this realization by the President, that he fired his erstwhile National Security Adviser (NSA) General Andrew Owoye Azazi and the erstwhile Defence Minister Alhaji Haliru Mohammed Bello. This much can be inferred from the reason given by President Jonathan for sacking them in order to "conform to the changing tactics of the Boko Haram insurgency".
Considering how dark and bloody June 2012 has turned out to be contrary to earlier assurances, one truly hopes that the President would be more tactful and selective in his choice of words on such combustible issues, in the near future. This would perhaps depend on the outlook and the new security strategy that would be adopted by the newly appointed NSA and yet to be appointed defence minister. Hopefully again, this bitter and dark lesson learnt would spawn a culture of having regular press conferences which would avail Nigerians of real and actual progress made by security agencies in tackling insecurity in Nigeria at all tiers of government, especially the Federal Government. This should particularly apply to progress made in the arraignment, trial and conviction of key suspects who have so far been apprehended. This is just so that ordinary Nigerians' fears are allayed and people are more informed about what is quite frankly, a life or death situation for many.